This is a list of featured article of naruto.
February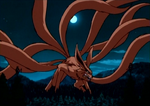 Kurama (九喇嘛, Kurama), more commonly known as the Nine-Tails (九尾, Kyūbi), is a tailed beast currently sealed within Naruto Uzumaki of Konohagakure. The fox was first sealed into Mito Uzumaki after the battle at the Valley of the End, then into Kushina Uzumaki after Mito's death.



---
March
The Valley of the End (終末の谷, Shūmatsu no Tani; English TV "Final Valley") is located close to the border of the Land of Fire and the Land of Sound. Shortly after the foundation of Konoha, the Senju's leader, Hashirama Senju became the First Hokage, much to the dismay of the fallen Uchiha leader, Madara Uchiha, who intended to destroy the village with the forced assistance of Kurama — the Nine-Tails. The battle ended with Hashirama victorious, Madara faking his death and going into hiding, and Kurama sealed within Hashirama's wife, Mito Uzumaki.



---
April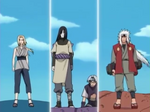 The Sannin is the collective name of three legendary ninja from Konohagakure, who are noted to be three of the greatest ninja of their time. While all three eventually left the village at some point for their own reasons, they all retained their renown from their title of Legendary Three Ninja (伝説の三忍, Densetsu no Sannin).



---
For the latest, coming soon ...